Hi everyone! Just another update on my dissertation progress. I have changed the topic of my dissertation, I am going to work on my own business idea. I will talk about that in the next post. This post will be a highlight of the last few weeks with Glow and probably the last time I will be blogging about them.

Glow
In the past few weeks, I've been going to the mentor and supervisor sessions every Wednesday evening as usual. I've been doing a lot of interviews and I've been travelling a lot, well just around London. The furthest I've been is Heathrow airport terminal 5.
About 3 weeks ago, I decided to change the customer segment, well not change but narrow it down. The decision was based on the feedback from professional working women (most saying they will not use mobile beauticians). So I thought of women with young children and women who lives in the suburb. My assumption is that women with young children would have to go through a lot of hassle and stress when going to the salon because they got to dress the children, put them in the pram, pack bag, push the pram into the salon. When they are in the salon, the children will get restless, cry and scream, etc. You get the gist. Basically no peace and they can't relax. If a mobile beautician was to go to their house, at least the mum don't need to dress the children, etc. Women living in the suburbs probably don't have much options in terms of salons and beauticians. They probably have to travel a distance for certain treatments. So it would be convenient for them if a mobile beautician visited them.
I asked my mentor's opinion and he thought they are good especially the latter. I told the founders but they weren't too keen on the latter and suggested women who travel a lot around the country. I told my mentor that they weren't too keen in women living in the suburbs, and he said to me "Keep an open and objective mind. I think your segments are legit. The purpose of customer development is NOT to prove your hypothesis true (many founders do this). It's to DISCOVER where your product fits in the market the best. "
I have interviewed one mum and one women who travels a lot but not women who lives in suburb. Haven't got round doing it yet- well I won't be now, as I'm doing my own idea.From their feedback it seems mobile beauticians isn't a popular option at all. The mum said she wouldn't book a mobile beautician because she still wouldn't have peace. Her kids would still be running around. The women who travels a lot said she wouldn't need to book one while she is away because she will be getting her treatments done before her trip.
I've done about 17 interviews with professional working women, 1 mum and 1 women who travels a lot. 14/17 have said they won't book a mobile beautician as they like the salon experience. Therefore, according to the Lean Startup the founders should pivot because the problem is not big enough to be solved.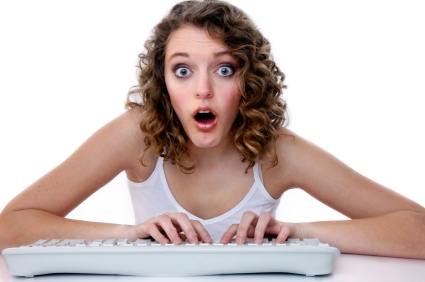 That's how I felt LOL.
Last week, I went to the supervisor session. I told her about my findings and she told me to tell the founders to abandon the whole idea of booking mobile beautician. (
She wants me to tell them that!! See the facial expression on left
) They should corporate with salons and get them to integrate an express make over method in their menu. Glow will then create an app for women to book their appointment. Apparently there's an express make up service in Bank and its always packed at 5pm with professional working women.
On the same night, I emailed the founders and told them exactly what my supervisor said to me. I was a bit hesitant because I'm basically saying their idea sucks. Lol. Well, it's not a bad idea but maybe they haven't found their niche. One of the founders wanted to speak on the phone about it, so we did. She said she won't pivot because she wants some concrete evidence that shows this idea won't work. And they have spent a lot of money and time on the app (they've got mock ups), and it will be a waste if they abandon it now. They will release the app and if it doesn't work then it doesn't. Then they will pivot. The thing is, I thought she said she follows the Lean Startup and that is going against it really. Unless she meant they are going to release an MVP to test it then that makes sense. However, if 14/17 have said they won't book a mobile beautician then the founders are probably building something that customers don't need or want. It probably will end up being one of those apps that just sits in the screen and will be used once every 3 months or less often. Also, my supervisor is an investment analyst, she is good at identifying business opportunities so she may be right...
Nevertheless, I have learnt a lot from working with Glow. The interviews were good experience. I am more comfortable talking to people at different level and from different background- not that I was shy talking to strangers before but I am better at building rapport. I also learnt how to refine my question and prompt them. Also, I want to thank the founders for giving me the opportunity. I want to thank those who filled my survey and those who participated in the interviews. Many many thanks!
That's it for now! Thanks for reading. =)